In this article, I'm going to show you the exact and simple steps your create your very OWN website!
You DON'T need any prior experience or knowledge. Just follow my instructions below and you'll find out how easy it actually is!
You can watch this video tutorial and follow along, the detailed instructions are below. I'm 100% sure that you'll be able to build a website in 30 seconds with these easy to follow instructions.
Do you want to build your own website?
Today I will show you the easiest way to build a website completely for free!
Whether you want to build your personal website or a website to generate an income online, this is the right place to start!
But first, I'll tell you a secret:
Building a website has never been as easy as it is today!
Today you can actually build a professional-looking website in under 30 seconds! FOR FREE
Start here by writing a name for your website below and click "Build it Now":
You can also start by clicking this link:
==> Create Your Very Own Website. Click Here <==
Step 1 – Give Your Website A Name
The link above takes you to a website which looks like this: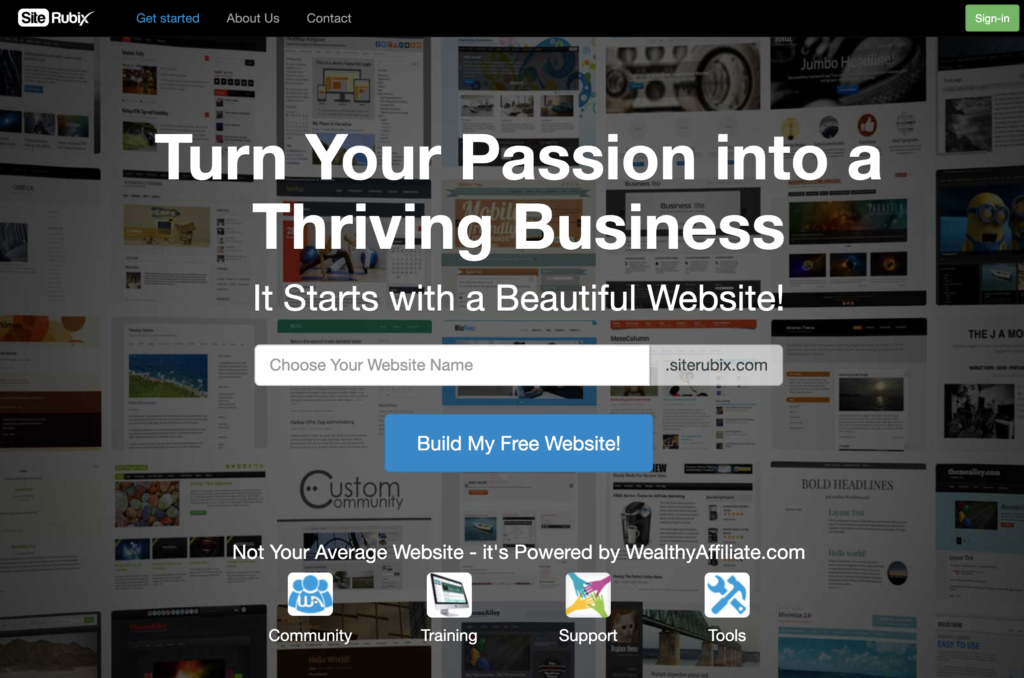 There you can write the name of your website and click "Build My Free Website!" or just use the form you see above!
Don't worry if you haven't decided the final name of your website yet. You can always create another name afterwards and transfer all the information over to the website with the new name then.
For example, this website's original name was MoneyMachine.Siterubix.com. I just created some name and started to build the website. Then afterwards I decided that my brand will be Make Money And Thrive and so I changed the name of the website to MakeMoneyAndThrive.com.
The change of your website's name is easy and effortless, so feel free to give it any name just now, it doesn't have to be perfect!
The most important thing is to build the website and take action. You can change the name later if you want.
Step 2 – Register Your Free Account
After you wrote your website's name, it'll take you to the Wealthy Affiliate registration page where you can create your 100% free account. (This account allows you to create a 100% free website.)
To fill out the form, write your name, email address and password.
Then click "Create My Account".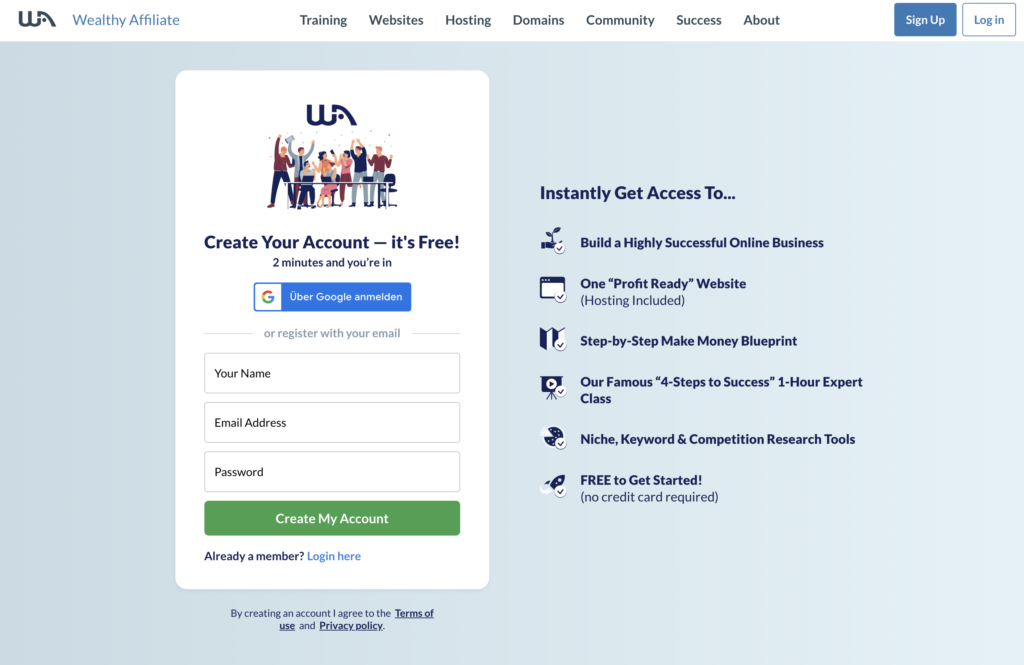 After registering your account (which will take probably 10 seconds if you are slow) you now see the following page.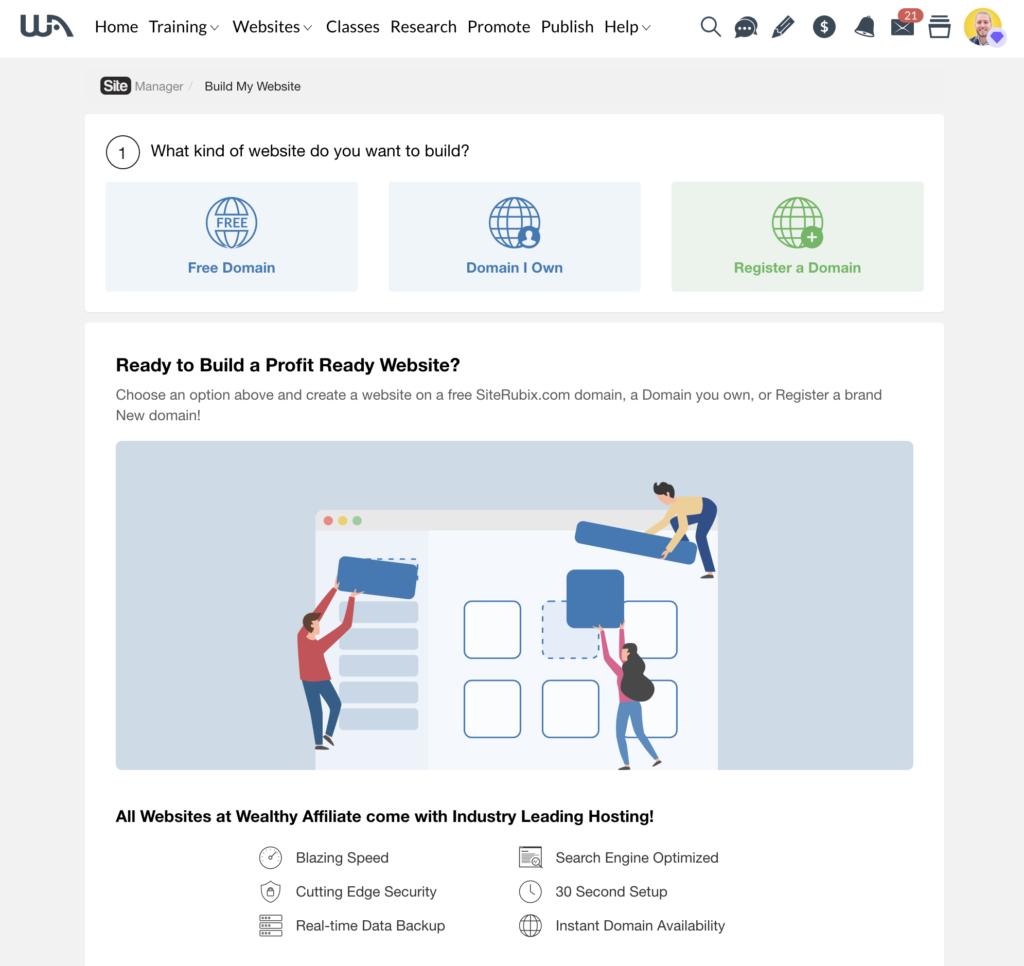 Step 3 – Choose the Look for Your Website
On that page, choose "Free Domain". The last thing you need to do now is to choose the look (the WordPress Theme) of your website.
Most likely you can choose GeneratePress and I highly recommend that you start with that one. It's highly customizable and one of the best Themes out there.
You can always change the look of your website afterwards. I'm sure that your website will change a lot over time because you'll improve it little by little.
Step 4 – Click "Build My Website"
And voilà! You've created your own website!
I want to underline that creating a website is very easy. The only thing it requires from you is that you follow the easy instructions above. If you didn't yet follow along, do it now! It's time to take action.
If you want to watch an even more detailed instruction on how to create your first website in under 30 seconds you can watch the video below. (The video will open in Wealthy Affiliate).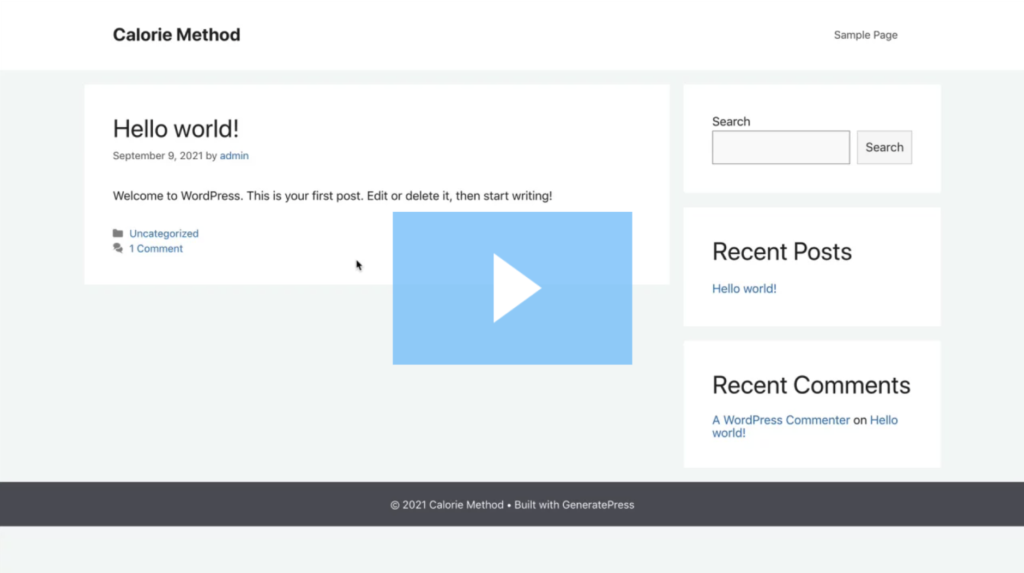 As you create a website by following my instructions, you'll get a WordPress Website which is very easy to run. You don't need to know any HTML or coding skills.
I'll help you with everything you need and keep on posting on how to improve your website and earn money from your own website.
Do you need more help?
If you need any help don't hesitate to drop a comment below and ask. Or you can easily get in contact with me through my profile on Wealthy Affiliate.