Introduction
Today we're revealing how to make money with Convertkit! That means how to make an extra $100 to $700 per day with ZERO experience!
Who is this for?
First, let's clarify who'll benefit most from making money with Convertkit and their email marketing possibilities. Even if you don't know where to start, you'll have the possibility to leverage this information to your benefit!
Creators
Maybe you're a creator and heard that email marketing is highly lucrative so maybe you're now looking to build an email list – this is for you!
Business Owners
If you're a business owner who has been doing email marketing in the past but you want an easier approach to email marketing, this is for you! Maybe you don't want to have to do with all the complicated little details that make a lot of work but provide only little leverage. Convertkit is very simple and affordable and let's you send out emails to your list in an easy and automated way!
Passive Income Seekers
If you're someone who simply wants to make passive income and you don't know where to start. If you just want to build an email list – not creating a big audience or being an influencer – this is for you! You can make a full time income with as little as 4.000 email subscribers as long as they're highly passionate about your topics.
The thing about an email list – especially with Convertkit – is that you don't really have to build an Instagram or YouTube channel and therefore are also independent in the manner that the emails belong to you – not a social media channel!
How to Make Money with Convertkit
Let's talk about how to actually make money with Convertkit. If you want to get started you can get a free 14-day trial of Convertkit by clicking here.
How do People Actually Make Money with Convertkit?
Get Email Subscribers
The first step to making money with ConvertKit is to build your email list. You can do this by creating lead magnets (such as ebooks, webinars, or free courses) that offer value to your audience and encourage them to sign up for your email list. Once you have their email addresses, you can start sending them valuable content and offers.
Learn how to create your email list here (step by step)
Send Out Valuable Content
Once you have a list of subscribers, it's important to keep them engaged by sending out regular, valuable content. This could be blog posts, videos, podcasts, or any other type of content that resonates with your audience. By providing value on a consistent basis, you'll build trust and authority with your subscribers, which can ultimately lead to more sales.
Include Offers About Your Affiliate Products & Services
One way to monetize your email list is by promoting affiliate products and services. If you have products or services that you use and love, you can sign up for their affiliate programs and include your unique affiliate link in your emails. When your subscribers click on the link and make a purchase, you'll earn a commission. Just be sure to only promote products and services that you believe in and that align with your brand.
Sell a Subscription to a Paid Newsletter
Another way to make money with ConvertKit is by selling a subscription to a paid newsletter. If you have expertise in a particular topic (such as marketing, finance, or health), you can create a newsletter that provides exclusive insights and tips to your subscribers. By charging a monthly or yearly fee for access, you can generate a steady stream of income while providing value to your audience.
Automations on Convertkit
When it comes to making money online, passive income and creating online businesses, it's all about leveraging automations and the power of the internet in order to give you the possibility to untie yourself from the process of actually putting in the work in the long term.
Evergreen Products
Evergreen products are products that have a consistent demand and are not tied to a specific season or trend. These products can be great for email marketing campaigns because they can generate sales on an ongoing basis. Here are a few examples of evergreen products that you can sell with email marketing:
Digital Products: Ebooks, online courses, and webinars are all examples of digital products that can be sold through email marketing. Once you create the product, you can promote it to your email list on an ongoing basis, generating sales without the need for physical inventory.
Physical Products with Long Lifespan: Some physical products have a long lifespan and can be sold year-round. Examples include home appliances, kitchen gadgets, and beauty products. By promoting these products to your email list, you can generate sales on an ongoing basis.
Subscriptions: Subscription services are another great evergreen product that can be sold through email marketing. Whether it's a subscription box service, a membership site, or a monthly coaching program, subscriptions can provide a steady stream of recurring revenue.
Online Services: Online services such as website design, copywriting, and marketing consulting can also be sold through email marketing. By promoting your services to your email list, you can attract clients on an ongoing basis and generate consistent revenue.
Remember, the key to selling evergreen products with email marketing is to provide value to your subscribers and build a relationship with them over time. By consistently delivering high-quality content and promoting products that align with your audience's interests, you can create a profitable email marketing strategy that generates sales on an ongoing basis.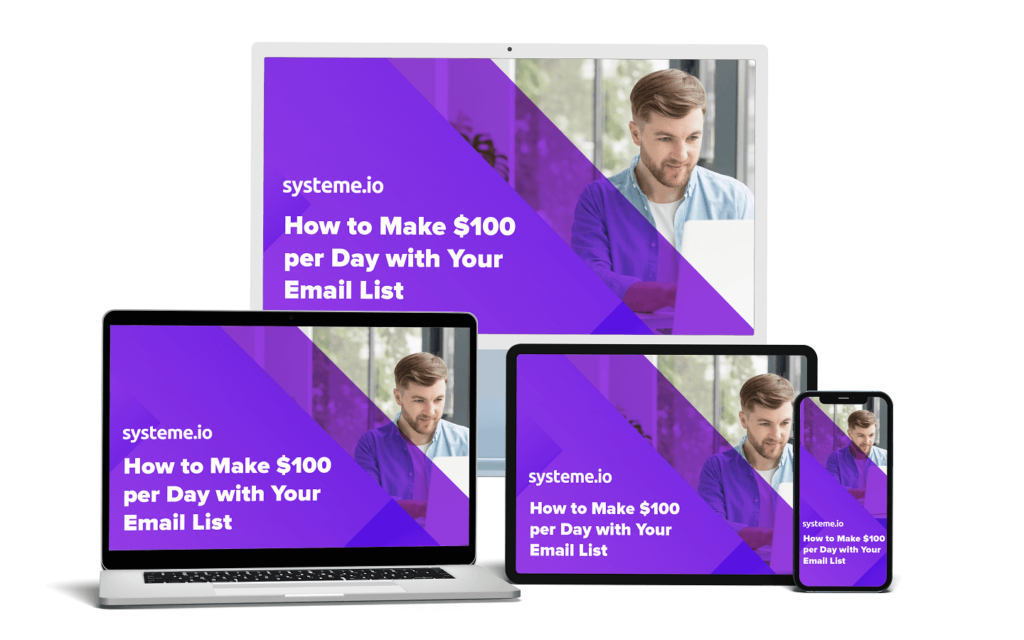 Video Course: How to Make $100 per Day with Your Email List
In the video you'll learn:
How I earned $3,000 per month in passive income with my email list alone (and how you can do it too)
How to get 100 opt-ins on your list per day
The method to earning $100 per day with your email list
Conclusion
In conclusion, ConvertKit is a powerful tool that can help you grow your email list and monetize your audience. By following these strategies, you can leverage the platform to create a profitable email marketing strategy that drives sales and grows your business.