Today I want to go in-depth into one of my favorite free-to-start online entrepreneurship courses. For those of you who've been spending time finding information on how to start out as a success in online business — you know how hard it is to find quality information online! Just about anyone and their grandma are telling you what to do and promise you the world.
You're hopeful and you can't wait to benefit from the information that's been promised to you! You buy an online course, start learning and soon you start questioning the actual benefit of the course… The information is dull, redundant even. Something that you could also find in a free YouTube video or a blog post. I'm sure you know what I mean.
Instead, let's have a look at a course that actually provides high-quality information. When I started this online course I was highly suspicious that this too would be a waste of time. Not a waste of money because it's 100% free to start! That course is called the Online Entrepreneur Certification Course by Kyle from Wealthy Affiliate.
Overview of the Course
So the course is divided into 5 levels that in turn are divided into 10 Lessons. All of them designed to teach you step-by-step, not only what it takes to become a successful online entrepreneur, but each lesson provides you with clear tasks on what to do.
That way, you can really follow along and build your business while you're doing the course. That was one of the most helpful aspects, if not THE most helpful one for me when I was starting out.
This course on digital marketing will show you step by step which are the first steps you should consider when constructing an online business strategy and set you up for success in your online marketing business.
Here's the full structure of the course:
| | Level 1 | Level 2 | Level 3 | Level 4 | Level 5 |
| --- | --- | --- | --- | --- | --- |
| | Getting started | Building Your Own Traffic Producing Website | Making Money | Mastering Social Engagement | Achieving Maximum Success Through Content Creation |
| Lesson 1 | Getting Rolling! | Your Own Domain, Your Brand. | Understanding the MONEY in Online Business | What Does Social Engagement Mean to Your Business | Content is YOUR Business |
| Lesson 2 | Understanding How to Make Money Online | Move On Over, My Brand Has Arrived | Understanding Affiliate Programs & Networks | Making Your Website a Place to Engage | Setting Up Google Search Console |
| Lesson 3 | Choose a Niche | Creating Keyword Rich Content | Relevant Affiliate Programs are Everywhere | Using Facebook the Right Way | Speeding Up Website Indexing |
| Lesson 4 | Building Your OWN Niche Website | Setting Up A Domain Specific Email Account | Adding Affiliate Links to Your Pages | Pinterest & the Visual Social Hemisphere | Enhancing Content Readability Through Design |
| Lesson 5 | Setting Up Your Website | The Traffic Breakdown | Instant Access to MILLIONS of products | Incorporating a Sound Tweeting Campaign | A Year is a Short Period of Time, Yet BIG for Business |
| Lesson 6 | Getting Your Site Ready for Search Engines | Making Use of Visuals | Leveraging Product Reviews | Google Plus or Minus? | Writing Within a Devised Plan Architecture |
| Lesson 7 | Creating Your Initial Website Content | Understanding the Low Hanging Fruit | Getting Paid for Ads on Your Site | The Benefit of Being Social at WA | Writing Your Content With Conversion Intent |
| Lesson 8 | Creating Custom Menus on Your Website | Making face as a real person | Earning Pennies OR Dollars? | Make Your Campaigns Social Branding Animals | Injecting Comments with Intent |
| Lesson 9 | Understanding Keywords, The Start of Your Content | Amplifying Your Productivity | A Brilliant Way to Track & Understand Your Traffic | Using the Wealthy Affiliate Social Community | Bing and Yahoo, They Are Still the 10% |
| Lesson 10 | Congratulations and Your Next Steps | Boosting Your WA Ranks! | With Help Comes Financial Success | You Cannot Be a Master of Everything | Articulating a PLAN for the months and year ahead |
An overview of all the lessons and levels in the Online Entrepreneur Certification Course
Course Benefits & Learning Outcomes
Discover the process of earning revenue online
Create and start working towards a list of new financial and non-financial goals
Gain instant access to over 590,000 niches
Choose your starting point NICHE for your business
Build your very OWN niche website
Learn how to optimize your website using WordPress
A simple and free way of making your site search engine friendly
How to create quality website content (that gets ranked)
Understanding the keyword research process
Quickly and easy creation of your own low competition keyword lists
Rating: 9,6 out of 10 (according to 895 reviews)
⭐⭐⭐⭐⭐⭐⭐⭐⭐⭐

Just as a lot of other people, I'm really grateful for this course because without it I'd most likely still spend time researching the basics of online business. Honestly, do yourself a favor and just complete the first level, read the lessons, watch the videos and most of all: Complete the tasks. You'll thank yourself, trust me. You don't have to be perfect, you just have to start.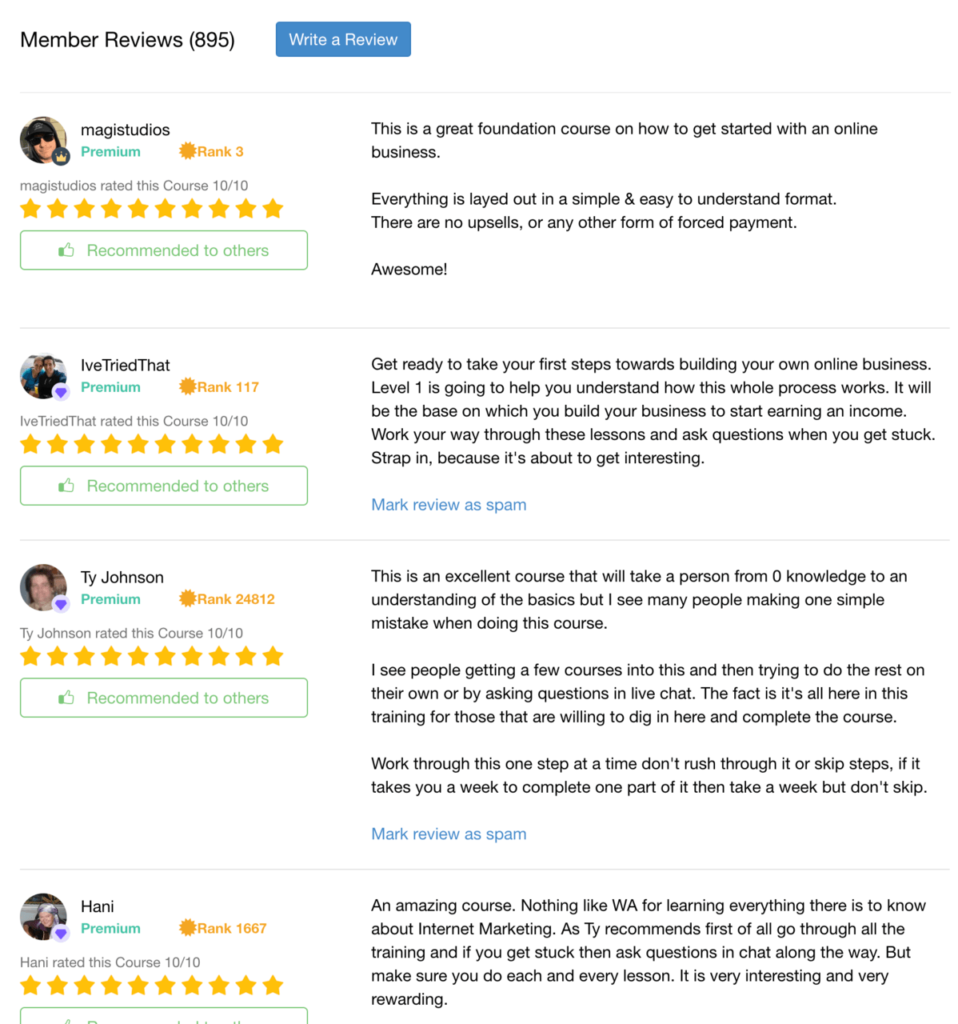 Is the Course Up to Date?
Yes, the course is being updated regularly. Even though most of the things that are taught there is evergreen information, the internet still evolves very quickly. That's why the course is still being updated to make sure that you'll get the most out of it.
Is the Course Really Free?
Yes, you can start the course for free. The reason behind that is: The creators of the course want to earn your trust by proving that this information is for real. No click-bait, no waste of time, no click-bait, none of that nonsense. The first level is 100% free.
If you decide that you want to continue the course, you can go Premium on WealthyAffiliate. This however doesn't only give you access to the full course, it also provides you with the possibility to create up to 10 profitable websites all hosted on WealthyAffiliate, hundreds of classes, a community that helps you with every question you might have, everything. For a complete overview on everything you'll get when going premium on WealthyAffiliate, read my full review here.
Conclusion
To end this article I just want to say that really man, this course has done so much for me. I've been researching online business for years, tried out a lot, failed, tried out more and failed again. I bought a lot of marketing courses for a lot of money, and honestly, most of it was garbage. If I wasn't so lazy with recording videos, I could've easily recorded at least 5 of those courses myself, made some money and ruin my reputation for selling garbage that anyone can find on YouTube in 5 minutes.
So believe me when I say that this course really changed a lot for me. I was kinda curious when I found out about the WealthyAffiliate platform and I was hopeful. Because even though I was highly suspicious and didn't want to waste any more time on lazy content provided by people who likely knew nothing more than I did – I wanted to know if these guys are for real. So I actually enrolled in the course, also because it was free to start. And the fact that Kyle was very open about wanting to prove the value of his teachings and that he wants to gain my trust kept me engaged enough to just try it out and I decided to give it a chance.
And now, looking back I'm grateful I did. This course was the beginning of me finally understanding what I'm actually supposed to do to be successful in owning an online business long-term. Actually, I'm sure that even only the first level of the Online Entrepreneur Certification Course will provide you with a great foundation to build your future success on (as long as you complete the tasks, obviously). So really, just try it out.

Online Entrepreneur Certification Course
This course starts with the very basics of how to be successful online through easy-to-follow guides and videos. With every one of the 50 lessons, there come several tasks that you have to complete. And just by following the course, you build your own, profitable website. It works, so try it out today!
That's it for today! What are your thoughts on the topic? Did you also spend precious time & money on courses that didn't really provide the value you were hoping for before? Let me know in the comments below!