If you are a creative person you might have previously thought about how to make money from your talent or how to sell art online for free. I've been a graphic designer for over 10 years and I know I did. I made my first money online actually by creating t-shirt designs and selling them online through various print-on-demand websites. It can even be a viable business model for someone who wouldn't consider themselves a creative person but has a mind for business. So let's start into it and find out how to sell t shirt designs online!
How To Make Money Online Selling T-Shirt Designs
Okay, so first things first: How do you actually make money? It's the question that everybody's interested in, right? Making money by selling your designs online can actually be a very easy process. You can upload your existing designs, choose the matching shirts, hoodies or other products, click a button and BOOM, your design is online and ready to be bought by millions of people. But the question is – how will anybody find your design? So let's start with a more structured approach.
Find Your Niche
Mark my words, you'll read this again and again. Why? Because we're operating in the internet. And when you have such a big ocean of information and data, being broad won't help you because nobody will know what to actually look for. There's an old saying in marketing: "If you're trying to reach everyone, you'll reach no one". That's why you have to find your niche.
But people generally overcomplicate finding their niche. It can be as easy as understanding what you enjoy. Do you like surfing? Great, your niche could be surfing. Do you love chess? Well, maybe your niche is chess!
Keep in mind that your first niche doesn't have to be your last! This little piece of information is what helped me to get going, so let me elaborate a little on it. People usually get stuck when trying to come up with a niche (and believe me, I did) because they think they have to limit themselves to one specific topic and will never be able to do anything else again. But that's not true. Actually you can have multiple niches, no problem! Just bear in mind that you should absolutely separate those niches on the online space, so that people can find what they're looking for. With t-shirt print-on-demand shops that could mean that you'll have one shop for your topic "Surfing" and another shop for your topic "Chess".
Also, getting clear on your niche helps you to get clear about your target group which means who exactly you're making your designs for which will help you to make more sales down the road.
Research What's Popular
Now that you know what topic you're generating designs around, let's talk about what kind of designs to create. If you want to make money from your designs there are generally two things that you have to think about:
What designs are popular?
How can I create really good designs?
We should never forget that people generally don't want to buy trash that's been created simply just so you can make a quick buck. People want good designs (unless your niche is 'bad taste' which can still be quite challenging to get right!), so try to focus on that instead only thinking about the money part.
So how to find popular designs? You can start your search on Google Images, Quora or Pinterest. I also like to observe my surroundings when I'm out in the city and have a look at what people are wearing or what's inside the shops.
Keyword Research
As you'll also have to describe your designs later on, after you've uploaded them to the platform(s) of your choice, start looking for keywords. There are several ways you can do that.
Google Research
For example, you can go to Google.com and start looking for "your niche + tshirts". Then you can start adding letters from the alphabet, starting with a all the way to z if you like to find out what people are looking for. Google shows popular terms that people are looking for, so that way you can find a lot of keywords that you otherwise maybe wouldn't have thought about.
Jaaxy – Professional Research Tool
If you want to use a more professional research tool to find out more about the different search terms and how easily you can rank for them, try Jaaxy. You can get 30 free searches by clicking here.
If you want to start making money with Affiliate Marketing the right way, click here to learn about a the platform that will teach you everything from the ground up.
Create Designs
So now that you know what t-shirt designs to create, let's go about creating them! There are several ways you can do that. The most common way to do that would be to use Adobe Photoshop or Adobe Illustrator.
If you don't yet have those Adobe programs, you can start with a free 7-day trial account by clicking the link. You'll have all the possibilities as in the paid versions so go and get creative!
How To Create a T-Shirt Design Without Photoshop?
However, what if you've never used Adobe programs before and maybe don't want to invest the time to learn these programs? Don't worry! There are some other programs out there that are free to use and can also be used online.
Canva – Even though I've been a graphic designer for over 10 years, when it comes to the images I produce for online work (like this blog), I hardly every use Photoshop, instead I use Canva because it's fast and easy. You could also use it to create some sweet t shirt designs with ready made graphics & photos, the possibility to upload your own images and lots of free fonts! Your creativity could be limited though as it's not possible for you to really "draw" your own digital images in here, think of it more like an application to do a digital "collage". If you're just starting out, this online app will greatly improve your workflow!
Figma – This is a modern, vector-based online application for people who are really into designing everything themselves. So let's say it's more professional than Canva but still behind the Adobe apps. Although it definitely depends on what you're trying to do with it! It's mostly used for UX/UI Design work (and it's GREAT at that) but gives you the possibility to also draw just about anything you like. It's no Photoshop, but you can think of it as something like a light version of Adobe Illustrator with the basic functions but made for a niche specific purpose (designing websites and apps). Still – in the right hands it can be pretty powerful! It gives you more freedom in how you want your designs to look than Canva, so if you're creative and want more control over your designs, give it a go!
Upload To Print-On-Demand Website(s)
So now that you've found your niche, researched popular what's popular in it and used one of the programs to create your own designs – it's time to upload it to your favorite print-on-demand websites!
I've used a few websites but I'm not going into detail for every one of them, instead I'll only recommend my favorites!
Spreadshirt – This is an online marketplace to shop and a platform to upload your designs! The great thing about it is that you can bulk upload a lot of designs every day instead of having to upload every design separately, so it saves a lot of time. You generally want to upload more designs because more quantity makes for better discoverability of your work. The quality of the products is alright, they're currently expanding on their organic line. Uploading your design is a pretty straight forward process here and on top of that it automatically translates your design description and keywords into all languages that are used in all the countries where spreadshirt is active. The price you'll get paid by design depends on the products on which it will be printed and is controlled by speadshirt. But you can also create your own shop with their own platform SpreadShop where you will have full control of the design price plus you'll also get paid a commission for every of their product (tshirts, hoodies, cups etc.) sold. I really like spreadshirt because it makes the whole process easy and already shows your designs to the existing buyers on the website.
Printful – It's like a dropshipping store. I have to say I actually LOVE the quality of the fabric. I had some of the t-shirts I designed at home and I was really stunned, the quality of the print and the smooth fabric is something I hadn't experienced before on print-on-demand websites. You can connect Printful to about any online marketplace you can think of (amazon, eBay, shopify and so many more) and whenever someone buys in one of those places – they print, ship and you get paid! Simply set up your account here today! You have full control over your design price and the fact that you can implement your products in just about any marketplace or shop system online gives it a huge potential!
I'll write a more in depth review on Printful in the future so come back to the blog if you're interested in that!
Write Clear Descriptions
So after your uploaded your designs to the platform(s), you'll have to select the products you'll want your design printed on and their color. Usually neutral colored t shirts or hoodies are bought most frequently. Afterwards, you'll have to write your design title, description and keywords.
Design Title – This has an impact on SEO so implement the keyword you made the design for here inside the design title.
Description – The description also has a big impact on SEO so to make your designs discoverable online through search engines, make sure to include your keyword or keyphrase in here as well.
Keywords – These keywords actually are less about search engines like Google, Bing or Yahoo and more about the internal search engine of the market place, in this example the interal search engine of spreadshirt. Try to think of as much relevant keywords as possible that people would search who want to buy a new t-shirt design in your niche.
Once you've added all the information, you can publish your design and BOOM, it's live and ready to be bought and make money. Congratulations!! You can repeat these steps for as many designs as you like. It may take a while until Google lists your designs and people start seeing them. Also, keep in mind that on a marketplace like this, there are hundreds of thousands of designs uploaded every day, so let's talk about how to promote your designs to boost your sales.
Promote Your Designs
When it comes to marketplaces, it's great that on them, you already have an audience that can find and buy your design on a regular basis! The downside is the huge amount of designs to choose from. So what you'll want to do is to start promoting your designs online so you can build your own audience that can find and buy your designs. So how can you do that?
The easiest way obviously is to take your design's URL and post it to you social media pages and invite people to take a look. The thing is that that's usually a pretty limited amount of people who will see it and to be honest, I'm not sure if your family is interested enough in your new design that they'll start buying it en masse. So what should we do? My best guess: Use Google. Create a website or your own online shop and add a blog to it. Start writing content around your niche and keywords so that people come to your website and will start buying your tshirts more frequently.
Luckily both Spreadshirt and Printful have easy-to-use plugins that you can use to implement their shops into a wordpress website. That sounds complicated, but don't worry, it's not. I struggled with the idea of creating a blog and writing content around my niche until I found WealthyAffiliate. Not only do they explain everything step-by-step in detail, they also provide a whole platform to create beautiful, fast and performant wordpress websites easily, even if you have no idea about how that works.
If you've never written a line of content before or don't know what to write about, don't worry. In their comprehensive course you'll learn everything you need to know about how to build a blog from the ground up, how to find keywords that will rank well on search engines, how to never run out of ideas and always know what you can write about. If you stick to it, soon your traffic will start to increase, you'll have daily visitors that read your content and in turn buy your t shirt designs. Start the course with a free Starter membership here.
Should You Sell T-Shirt Designs?
I think everyone should selling their t shirt designs online. It's incredible how much loved t shirt designs are. They sell really well. I've had even really bad or very easy designs sell. I think it's a great way to start making money online for someone who hasn't done so before. My first online money came from online t shirt sales. So if you're not sure if it's the right thing for you to do, I'd say don't think too long about it. Get into action, start doing it and you'll quickly see if it's for you or not.
How Much Money Can You Make With Print On Demand? Is Selling T-Shirts Online Profitable?
That depends. It can be so profitable that you can make some extra bucks on the side or even replace your full time income. The thing is that it's hard work. Creating your t shirt designs actually is only the first thing to do, but only because you created a design doesn't mean people can find it. And if they can't find it, how can they buy it? And if nobody buys, then it's not profitable. What you'll have to do to sell more t shirts is to start your own online presence in a niche market, build traffic and then people will start buying more. Keep in mind that you'll have better chances of selling more if your designs have a high quality and are visually appealing.
How To Sell T-Shirt Designs Without Being Creative (But Business-Savvy)?
If you don't consider yourself creative or don't want to spend the time to create your own designs, this can still be a viable way for you to make money if you're not afraid to let someone else do the work and pay a few bucks for it. Yes, that's right! You can actually pay someone else to create the t shirt designs for you and sell them on the websites we discussed before. So how does that work? Have you ever heard of fiverr.com? It's a website full of freelancers who are willing to create almost everything for you, from business cards over t shirt designs to whole websites. And it doesn't cost a lot. It's actually a very efficient way to spend your money.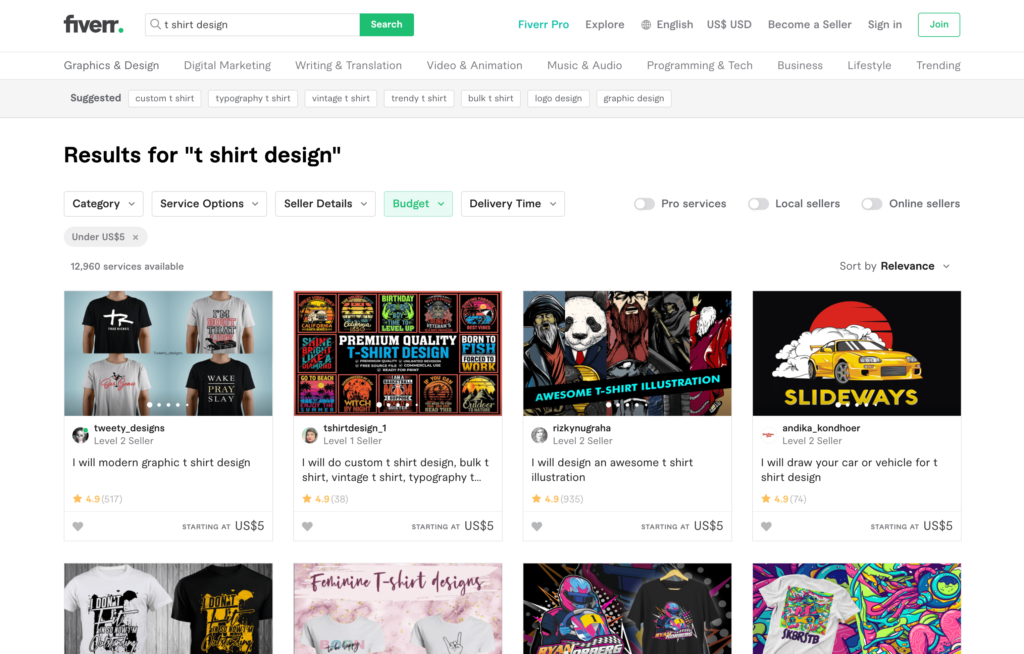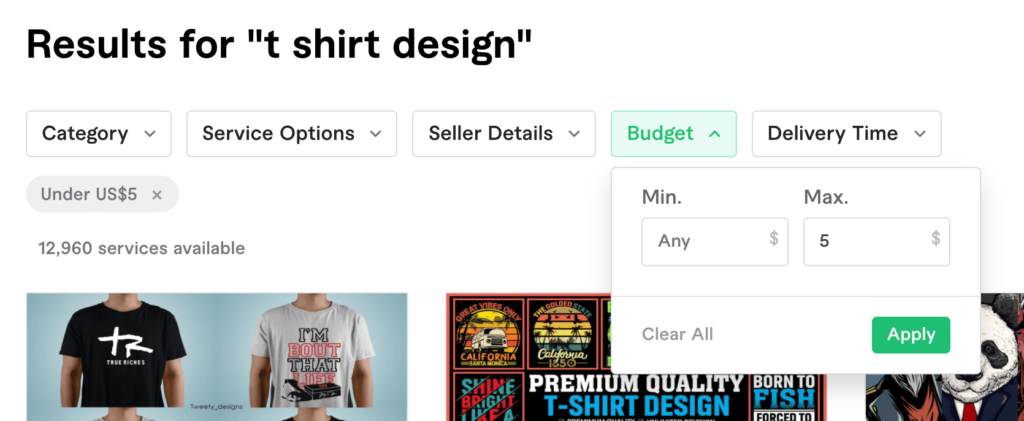 There are freelancers that offer great work for as low as $5, just filter your budget accordingly. You can find a few freelancers and select them based on their previous work and reviews from other users. Then you give them the job to do, get the finished designs a few days later and then you can upload them to your preferred market place. So you pay money once but potentially make money from it every time the design is sold. It's an intelligent way to go about this and you should definitely give it a go. You can sign up for free here.
Conclusion
So there you have it! Selling t shirt designs online is a great way to make your first few bucks online or make more out of it if you want to. You could create your own brand for free, just from your bedroom. I hope this guide was helpful to you.
Have your ever sold t-shirt design online before? Do you have any comment or feedback on what you've read? If you have any questions feel free to reach out! Just leave a comment below and I'll be happy to get back to you!