Quwiex Is Not Available Anymore!
Quwiex is not online anymore since 18.04.2022. The company seems to have disappeared without noticing investors. No new information has been disclosed so far. For the most recent information, please visit: Quwiex Offline: What Now?
I'll leave this post online for the time being, as a reference.
This post is from the 21. March 2022 and shows outdated information.
Important Information regarding Quwiex Company Registration:

The New Zealand Companies Office published a Notice of Intent to Remove the Quwiex Limited registration entry.
I asked Quwiex about this and they responded quickly with the following message: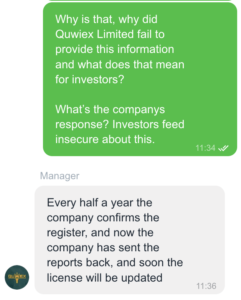 So they basically said that they already sent the reports and that the license will be updated soon.
Let's have a look at it in a few more days and see what happens.
UPDATE 03/31/2022
Quwiex now has an official business license and is incorporated as QUWIEX GLOBAL INC. in the United States of America. Read all about it here.
If you want to check out what Quwiex does, go to their website here or read my Review of Quwiex Limited.
Read more about Quwiex here:
Official Quwiex Website
If you want to know more about Quwiex, visit their official website. You can sign up and invest crypto in deposits that provide daily profits of 1%-3% and release the principal investment after as few as 15 days.
At the time of publication of this article – the service still works. Profits are stable, withdrawals work without problems.
If you have any questions be sure to leave a comment below.